Stained Glass Workshops
Full Day Stained Glass Workshop £98
Learn the traditional technique of stained glass - Create your own beautiful leaded glass artwork. The glass workshops run from 9.45 am to 4.30 pm in our lovely and well equipped and spacious studio. This full day course includes refreshments and a 2 course lunch of local Cornish produce so all you need to bring is closed in shoes and an appetite for learning a new skill!
Georgina holds a BA hons in Architectural Glass and together with Amanda who is a self taught glass artist they run courses in fused and stained glass. 'We welcome the naturally creative AND those who might need a bit more inspiration! - we have designs and ideas aplenty!' You just need to bring your enthusiasm, closed in shoes and be prepared for a glassy adventure...
whats included?
On arrival you will be welcomed with delicious homemade biscuits and refreshments, and later a delightful, locally sourced two course lunch made by our resident cordon bleu chef! Some people said 'it was worth coming for the lunch alone!' As well as the lunch and days experience; all materials, safety equipment and course booklet are included in the price. After your days experience you will have created a beautiful leaded stained glass panel.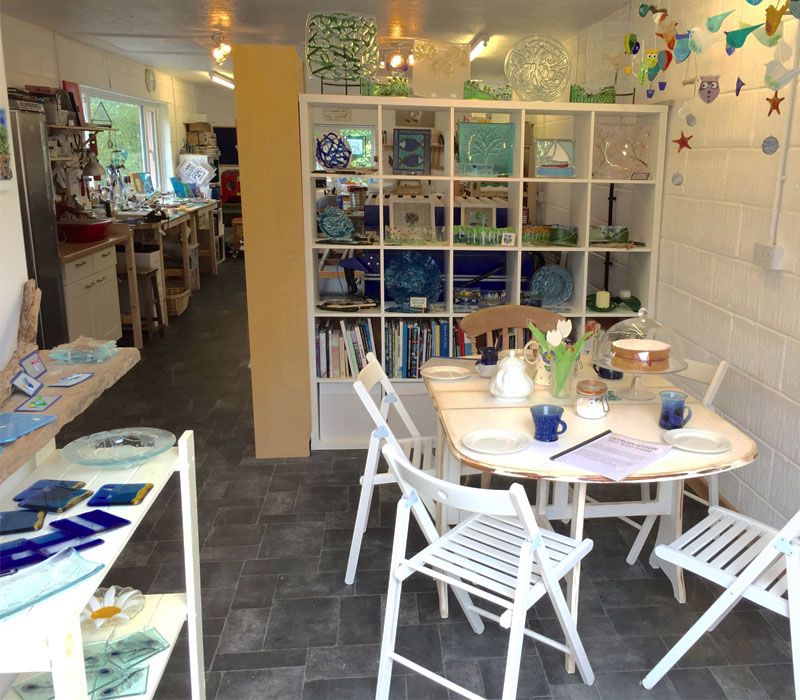 course content...
First you will learn the basics- how to cut glass using traditional tools such as - glass cutter, grozing pliers, and steel breakers. Then choosing from a selection of unique designs you can start to cut the glass for your panel. The tricky bit is choosing from the gorgeous selection of coloured glass! Once you have the glass cut you will learn about the technique of leading up, using more tools such as - lead knife, fid, oyster knife, lead stretcher, traditional horseshoe nails and lead cames to secure your glass in place for your panel.
Then you will tallow the joints and solder them. Next the rather messy bit, you will cement the panel on both sides to stabilise and waterproof the leads, clean it up using whiting (chalk dust) to dry up the remaining oil a. Then cement and scrub it clean with a brush. Lastly you will give it a polish and it's ready to go! Your creation will be ready to take home on the day, just make sure you keep it flat for a couple of days to ensure the cement has gone off before you hang it.
Half Day Lightcatcher Workshop £65
This 3 hour course runs 9.30 am - 12.30pm. A great way to spend some time learning a new craft, you will also enjoy coffee and homemade cake! Using the tiffany method of copperfoiling you will create a beautiful lightcatcher.
After choosing from a unique variety of designs, you will learn the basics of cutting glass using traditional tools. From foiling to soldering you will learn all the techniques you need to create your very own original lightcatcher. All you need to do next is decide the perfect place to hang it when you get home!
Due to health and safety the age min is 12 yrs accompanied with a parent/guardian also taking part in the course. This course is not suitable for pregnant or nursing mothers due to the use of solder and lead.
how to book?
Please see workshop diary for calendar of course dates available. Send us a message on the contact page to ask about availability and booking.